GENUINE TST TIN'S SECRET BIOSMASS GRAPHERE MASK BRIGHTENING MOISTURE CLEANING (5pcs/box) / 现货[100%正品]净颜焕肤面膜石墨烯面膜 (5片/盒)
Price

RM39.90

RM89.00

Product SKU
TST/GRAPHERE/MASK
Brand
TST Tin's Secret
Size (L x W x H)
15 cm x 10 cm x 15 cm
Availability
Description
Highlight
Cleaning & Brightening Facial Mask is also called graphene mask.
It is a deep moisturizing mask full of essence.
The four major effects combination of cleansing, strengthening repairing, brightening skin tone and acne oil control in one "Membrane".
After applying the skin, it is translucent and moisturizing from the inside out, allowing you to enjoy the beauty of nude skin!
Cleaning & Brightening Facial Mask is also called Graphene mask.
It is a deep moisturizing mask full of essence.
The four major effects combination of cleansing, strengthening repairing, brightening skin tone and acne oil control in one "Membrane".
After applying the skin, it is translucent and moisturizing from the inside out, allowing you to enjoy the beauty of nude skin!

净颜焕肤面膜又被称作石墨烯面膜,是一款深层补水面膜,精华满满,集清洁拍浊、强化修护、提亮肤色、控油清痘4大功效于一膜,敷完肌肤由内而外透亮滋润,让您尽享素颜之美!
净颜焕肤面膜:一净、二导、三修复
一净
石墨烯有莲花提取物的,莲花营养的净化能力潮灵的保湿水能告诉你
什么黑头,闭口,一扫而光
二导
石墨烯属于六环结构,都具备发射远红外线的能力,远红外线能够让肌肤细胞活跃,能够让营养吸收全
三修复
面膜精华中还特意添加了多重亮肤精粹,药蜀葵、光果甘草、白池花籽、油菜籽等7种植物成分互相搭配,让肌肤由内而外焕发自然透亮。

去黑 去黄 提亮
采用生物质石墨烯膜布吸附毛孔内沉积的脏污及彩妆残留,舒敏消炎祛痘

无论干痘还是油痘的产生都与痤疮杆菌有关。石墨烯因其膜布的特殊性可以从源头帮助我们解决痘痘的困扰。

石墨烯不仅是针对痘痘肌,而且对正常肌肤它也会持续滋养

在面膜精华液给肌肤输送营养的同时,生物质石墨烯膜布可以抑制长痘区域增生,让痘痘以外的肌肤享受营养的滋润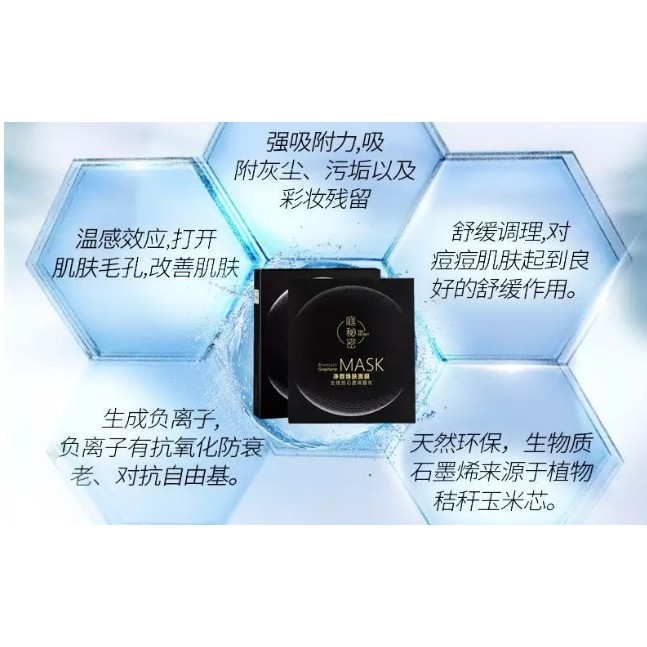 What's in the box
X1 1BOX(5PCS)